Sun Block Roll Up Sun Shades and Drops

---
---
Sun Shade Types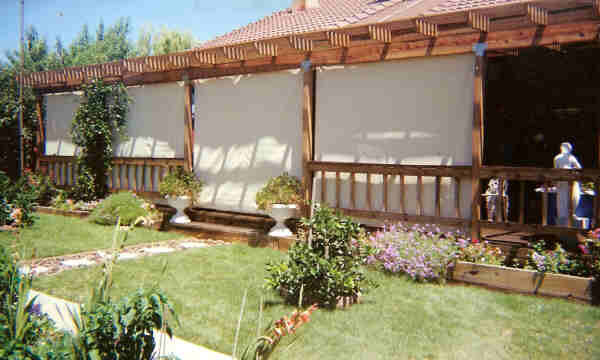 We offer many styles of Sun Shades that screen from the sun's solar heat at Customcovers4you We have designed Solar Sun Shades to shade your home and patio, indoor shades and outdoor shades, from 1985. We custom design and make our quality roll up sun shade coverings in your size, color, style and fabric in the best materials at the best cost for energy efficient sun shades. If you want to shade sun from your interior, these Sun Shades are a wise investment for your home or business as they are energy saving and reduce your cooling and heating costs. If you are interested in green energy and helping the environment, PVC free sun shades, solar screens, or blackout shades do it best! Many electric companies offer rebates for the purchase of these outdoor shades and screen shades because they do effectively cut energy costs! Take a look at our sun shades, roll drops, rope drops, window screens, window inserts, Roman shades, shade panels, and skylight shades:
---






We make a variety of other custom sun shade coverings that are not listed. All Sun Block Custom Sun Shades are designed to block the UV and shade sun from the exterior of your home, saving on energy costs. This is more energy efficient than trying to cool your house after the heat has entered. Take a look at our gallery of sun shade products below, then click on the Contact Us link to get a quote on sun shade for your home or business. Remember, we make quality custom sun shades in the USA in your style, color, size and fabric at the best price for the best product! So if you need a window shade, porch shade, patio shade, transparent shade, screen shades or blackout shades, take a look at our sun shade gallery below and give us a try! And remember to buy American; they are all made in the USA.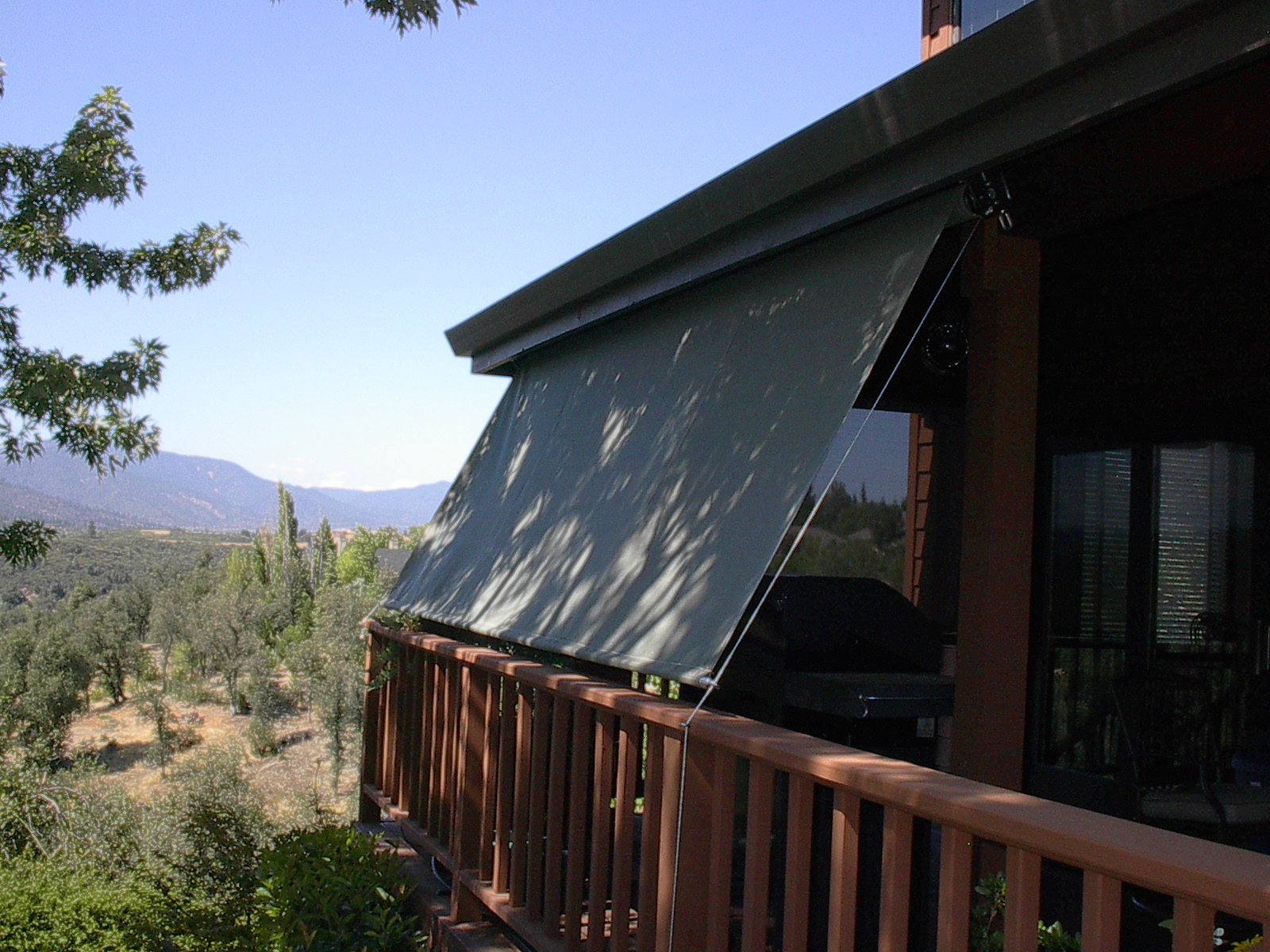 ---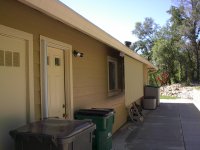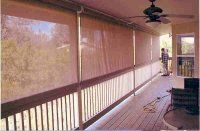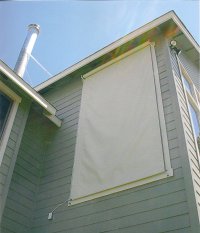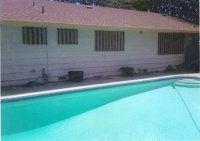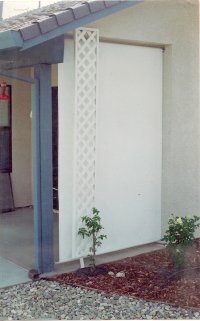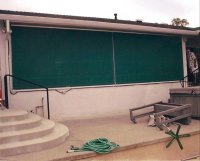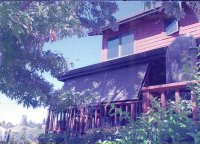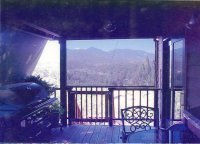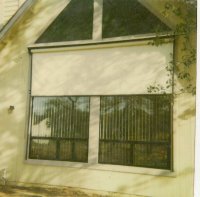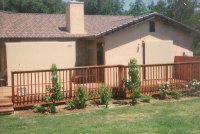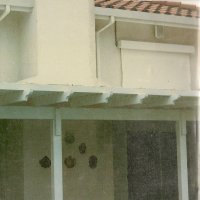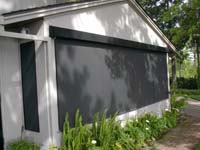 We have two types of roll up shades, Rope Drops and Roll Drops, for your exteriors. Both these Sun Shades are roll shades. The Roll Drop is designed with a quality, geared roller that can be easily rolled up or down with a manual hand brace. These Roll Drops can also be motorized with a Somfy Motor. On the other hand we offer Rope Drops, with the drop operated by rope and pulleys. The rope drop is similar to the bamboo roll up shades, but better made and effective. Both types of sun shades, roll drops and rope drops, are durable and will last 'many' years and shade sun from your home for years. We offer full support and instructions for their easy installation.

As always, we use only the best materials. You have a wide selection of colors. The roller sun shades and drops have a weight bar sewn in at the bottom to weight them against the wind. The Roll Drops also come with a cable guide wire for control on windy days. If you'd like to see a video showing the different shade systems, click here.

Take a look at our gallery of Sun Shades, and price list and color charts from the links above and contact us for any other questions, or to order. Below the Sun Shades we have examples of Window Solar Screens and Roman Shades at the bottom of the page. These also work wonderfully as solar screens to insulate, shade sun, and keep your home cooler in summer!

Contact Us for a quote or free fabric samples.
---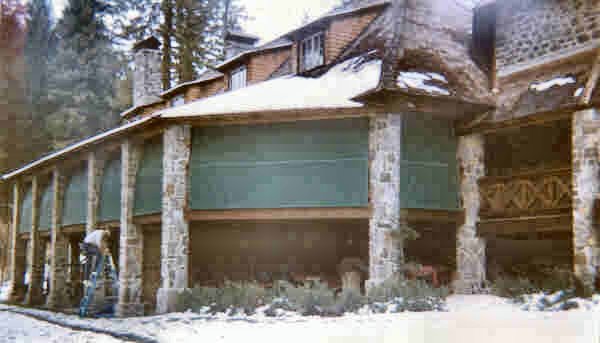 Series of Roll Drops, in 90% Pine Green Textilene.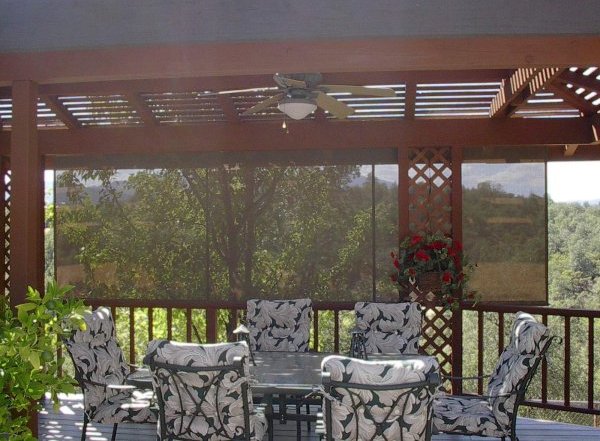 Roll Drop Solar Shade lets you see out, but allows privacy within.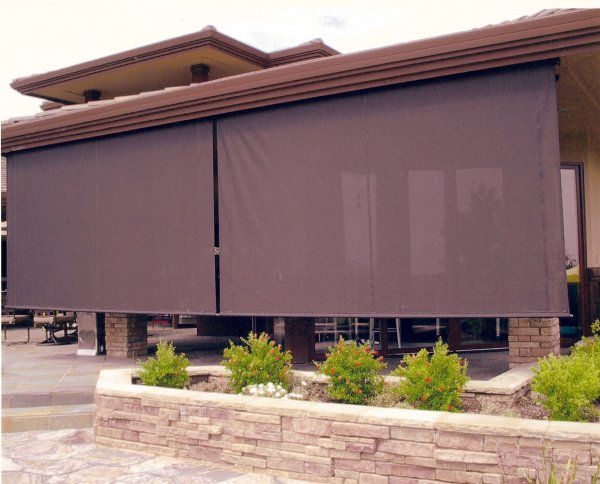 Solar shades where the Roller shade is a motorized sun shade, with wind sensor and remote provided.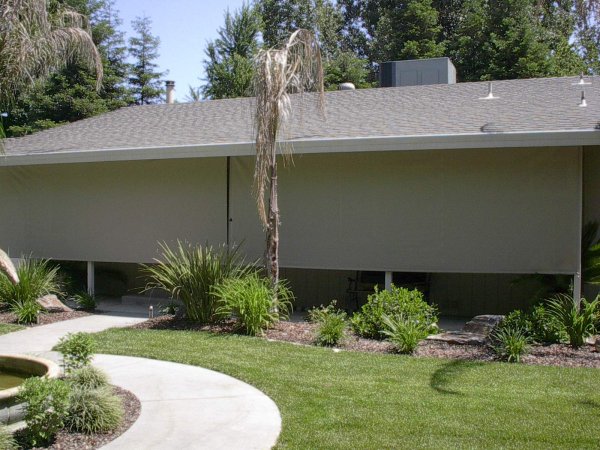 A long lasting roll up Sun Shade provides an economical alternative to cooling bills.
---
Below you see the chart showing the difference between Rope Drops and Roll Drops: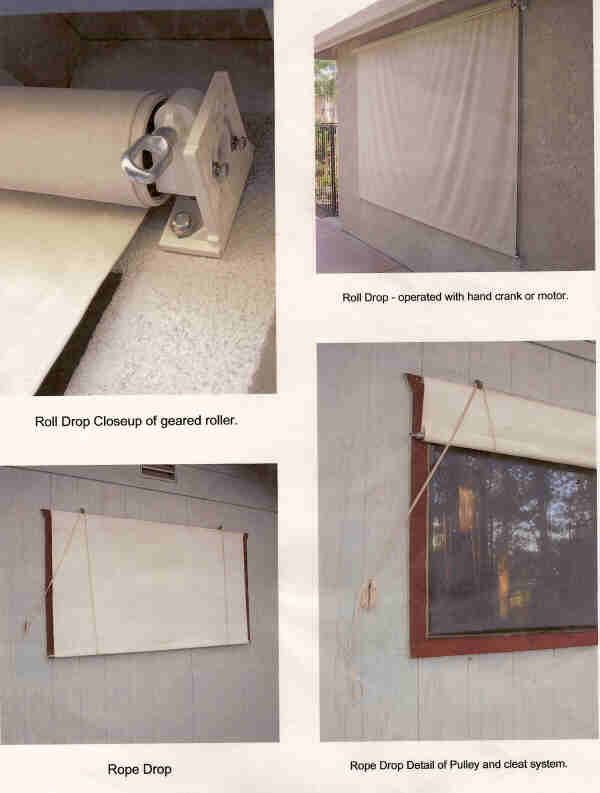 ---
Examples of Rope Drops: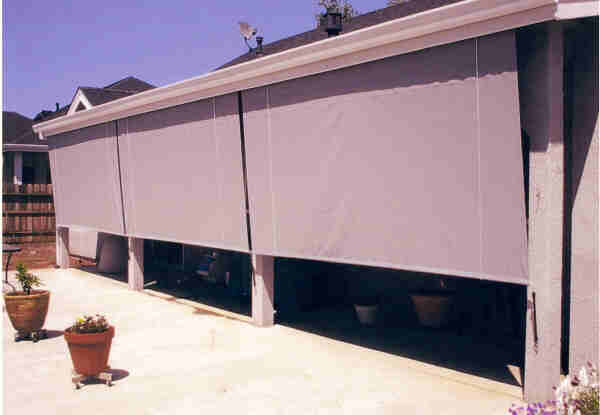 Gray Textilene Rope Drop shades from the sun and protects interior from solar heat and glare.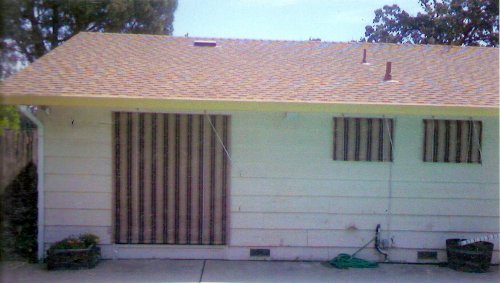 Rope Drop made with Sunbrella Chocolate Chip Fancy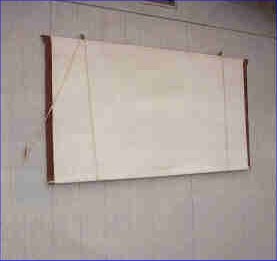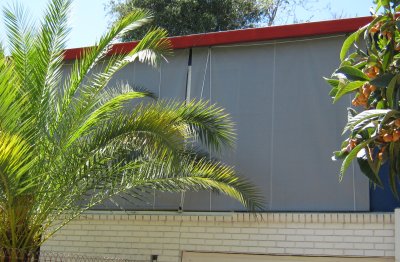 Rope Drop with White 90% Shadecloth *Rope Drop Gray 90% Shadecloth
---
Roman Shades
We make Roman Shades for the Interior or Exterior of your Home. They serve as blinds to insulate and block out the sun. The Roman Shades shown below are interior shades made with a layer of warm window insulation sandwiched between Sunbrella Acrylic. They are operated much like the Rope Drops. Call or contact us for a quote on your own Roman Shades.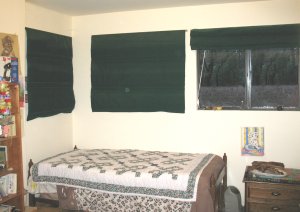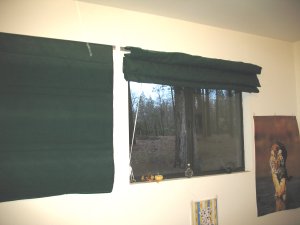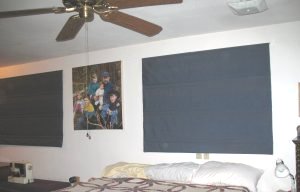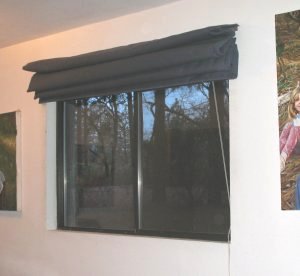 Remember, all our sun shades, window screens and other solar screens are made to be durable and long lasting! The shadecloth Shades are constructed from TEXTILENE®, a time proven exterior screening fabric in durability and performance. It is Flame-UV- Mildew resistant, cleans easily with mild soap and is color fast. Designed with UV factors of 90% plus, it functions well to reduce heat transfer through windows and reduce energy costs. On the other hand, if you'd like a Shade that blocks the light, we use Sunbrella Acrylic or Topgun Marine Polyester in your choice color. Both fabrics are UV-Mildew-Water resistant and color-fast. Our exterior shades stop the sun's heat before striking your windows, saving on energy bills and keeping the interior cooler. Many electric companies even offer rebates on these shades. They also work as durable alternatives for insect and golf ball screens.
If you have an unusual window and want to cut the UV by up to 90%, consider our window shade panels. Many Electric Companies offer rebates on these panels. If you are in Shasta County, CA, come in to our shop or call (530)365-0051 and we'll measure, manufacture and install custom window panels for your home. Outside of Shasta County, just contact us with the measurements of the window you want to shade. Digital photos always help.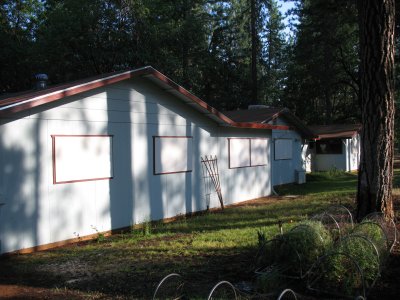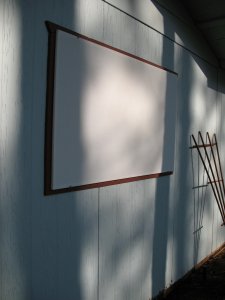 These window panels or screen inserts are very easy to install, as shown by the tabs below, which screw into the framework. They can be mounted in Summer and taken down in Winter by simply loosening the four tab screws.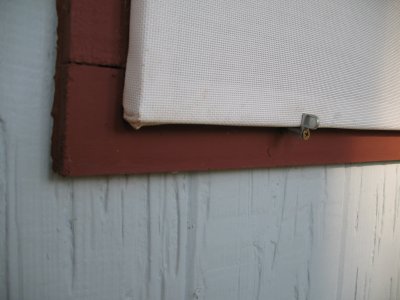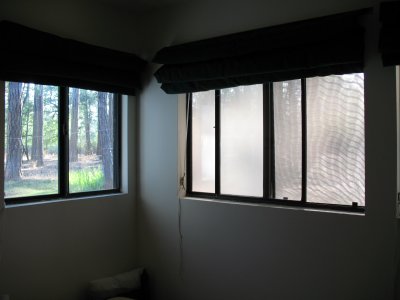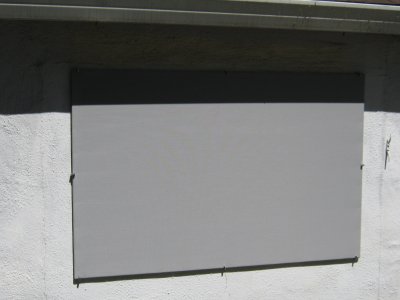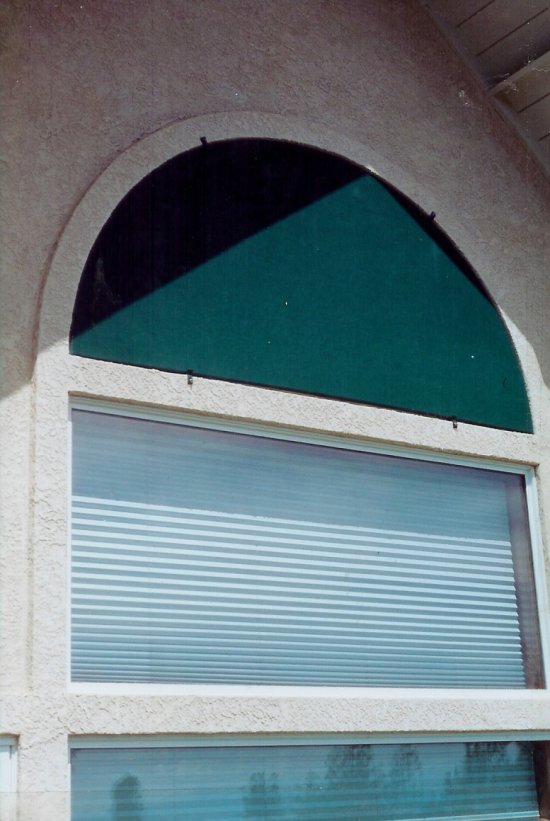 Window Panel is made in a Blackout Fabric - Sunbrella or Top Gun Marine Polyester .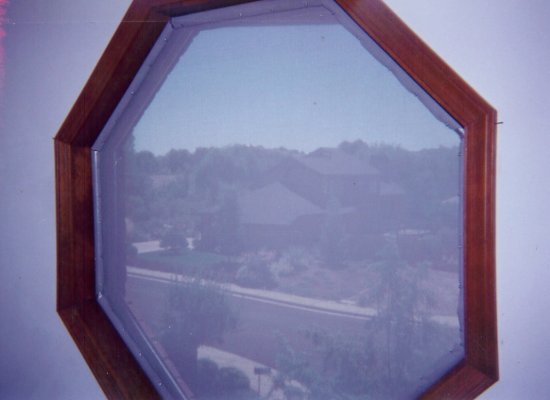 Odd Shapes are not really a problem with these Window Shade screens.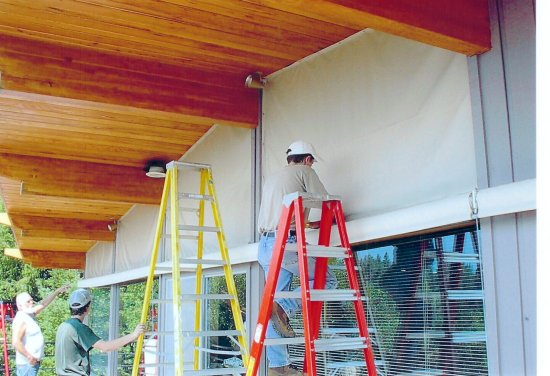 Window Shade inserts and roll drop Sun Shades will work together to keep this residence cooler in summertime.

---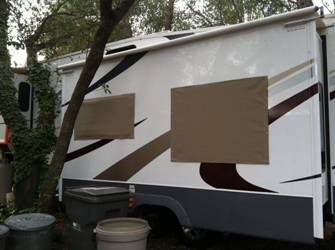 Window panels can also be made that snap on your house or RV. These panels are made from a
90% Winter Wheat shadecloth.

---
Customcovers4you.com carries energy saving sun shades, Solar Shades, Insulating Shades, Green Shades, Skylight Shades, Outdoor Shades, Patio Shades, Porch Shades, Deck Shades, Gazebo Shades, Pergola Shades, Lanai Shades, Outside Shades, Light Blocking Shades, Motorized Shades, Oversized Shades, Inside Shades, Outdoor Privacy Shades, Outdoor Light blocking Shades
for black-out. That is why our name is Custom Covers for You.com We try to make the right cover for you every time! And remember, all our products are made in the USA, with good old USA quality.

---
Exterior Sun Shades, other light blocking shades and blinds of all types
Roller Sun Shade Drops w/ Manual Brace
Roller Sun Shade Drops Motorized
Roller Blackout Drops
Solar Shade Rope Drops
Exterior Screen Solar block
Exterior Screen Solar blackout - Privacy Shades
Exterior Window Shade Screens and Blinds
Exterior Solar Shades, Retractable, motorized
Shades for Skylight, Skylight Covers
Sunroom Shades
Patio Shades and Shade Systems
Outdoor Shades - Sun and Ultraviolet Protection
Sun Shades for Boats and Patio Boat Enclosures
RV and Marine Sun Shade
Indoor Shades and Blinds
Insulating Shades and Window Blinds
Shades for Porch, Deck, Gazebo, Pergola, and Lanai
Skylight Shades and Roman Shades
PVC Free, Green Shades
Patio Enclosure Shades, with clear vinyl windows available
---
Let me get a quote on Sun Shades now!
---
USA made Custom Covers, Sun Shades, Awnings, SandBox, Skylight, Sun Screens, Canopy
customcovers4you@frontier.com
6865 Airport Rd., Redding, California, 96002, US
phone: 530-365-0051 fax: 530-365-0052
'In the evening of life, all that matters is love.' - John of the Cross

Copyright 2018 by Customcovers4you.com Affiliate Search Terms: Fabrics Sunbrella Grills