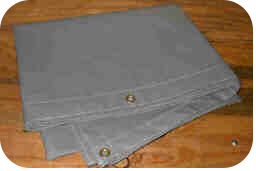 We are in the business of making Custom Covers. So contact us for a quality tarp made your way - your size - your style - your fabric - your color. And get your custom tarp at the best price for the best product!
Find Custom Covers 4 Trucks, Trailers, Trash, and Wood at Redding Canvas. We make custom tarps to fit your size and configuration. We offer quality tarps and covers for every application for your custom needs. Whether you need to cover, trucks, trash, hay, asphalt or you want shade - We offer the best covers at the best price. Just contact us for a bid on your custom tarp.
---
Custom Tarps we offer:
Custom tarp - your choice, your way

Truck tarp for Asphalt

Mesh Tarp - great for Trash Tarp

Cover Machinery Tarp - Generator or other

Wood Pile Tarp - Debris Cover

Cover 4 Tents - Sidewalls - Curtains

Pool Cover

Ground Cover Tarp

Wind Screen and Privacy Fence

Shade covers and more

Contact us for a Custom Tarp or Cover! we can send out samples and we quote within 24 hr.